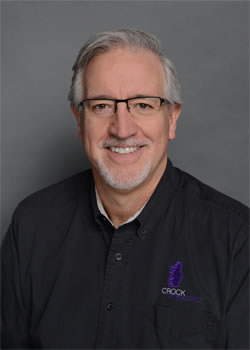 Since 1991, Dr. Brian E. Crock has been a specialist in orthodontics and facial orthopedics. Highly educated, he completed his undergraduate work at Miami University, where he earned his Bachelor of Arts in 1984. In 1988, he obtained his Doctorate of Dental Surgery from The Ohio State University. Dr. Crock completed his residency in orthodontics and earned a Master of Science at Ohio State in 1991. He has been in the exclusive practice of orthodontics since that time.
With nearly three decades of clinical experience and ongoing continuing education, Dr. Crock can provide you with the most up-to-date treatment and service available! His practice includes the treatment of children and adults with conventional braces, removable appliances, Invisalign®, and surgically-assisted orthodontics.
Dr. Crock feels it is important to stay on the cutting edge of orthodontics. Thus, he maintains memberships in many prestigious professional organizations to keep up to date on the latest techniques and technology. He is currently a member of the American Association of Orthodontists, Great Lakes Association of Orthodontists, Ohio Association of Orthodontists, American Dental Association, and Ohio Dental Association.
Dr. Crock supports the community by participating in the Newark Rotary Club and Pelotonia, which is an annual cycling event held to raise funds for cancer research at The Ohio State University. He enjoys fly fishing and cycling.